SOL®

– Systematic root
cause analysis

Learning from »negative« events (accidents, incidents, errors, etc.) is an essential feature of successful companies. SOL – Safety Through Organizational Learning has been developed in order to make the potential for improvement in this area more attainable. With SOL, the causes of events can be systematically identified, so that target-orientated learning is possible.
(Look here for a description of SOL)
SOL: Proven test winner
SOL® has been in use for 20 years as a method for holistic analysis in all nuclear power plants in Germany and Switzerland. In a study conducted by the German Federal Institute for Occupational Safety and Health, in which 12 procedures for root cause analysis were compared, SOL came out as the best.
Including human and organizational factors (HOF) in root cause analysis
Technical systems have constantly improved in the past. As a result, the human contribution (human factors) and the contribution of organizational factors to safety are constantly increasing.
SOL makes it easy to capture the human and organizational factors in a root cause analysis. SOL is designed to effectively support corporate practitioners in a HOF analysis. This increases the quality of root cause analyses.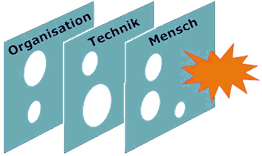 20 cause categories with examples
SOL uses 20 categories of possible causes and contributing factors for an analysis: these are enough to capture the complexity of events and not too many to ensure ease of use.
The categories are explained with numerous examples, which facilitates their use in practice. All categories and examples can be flexibly adapted to the areas of application.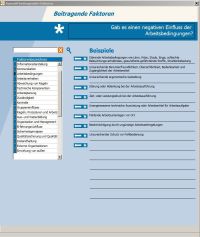 SOL Software:
Easy to use, low in cost
During the development of the SOL software, the focus was on simplicity and usability. The result is a software for root cause analysis that is simple, lean and cost-effective. Thanks to the ergonomic design, all functions can be accessed intuitively. The ergonomics enable a short training period – a factor that contributes significantly to cost reduction.
SOL is a Windows application (7, 8, 10), which places only low demands on the hardware. With the transferability of results to MS Office programs, SOL software supports the documentation of analyses.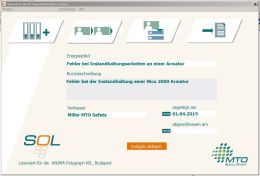 Your benefits
Long-proven method for root cause analysis

Systematic contribution to increasing safety and learning from events

Supports employees in performing analyses

Easy identification of human and organizational contributions to events (HOF analysis)

Structured and clear presentation of results (timeline)

Categories and examples can be adapted to the areas of application

User-friendly software – easy to learn

Available as German and English version
SOL® is a registered trademark of MTO Safety GmbH at the European Union Intellectual Property Office (EUIPO).